Next month's CES in Las Vegas will see Plessey demonstrate the first AR and VR glasses powered by microLEDs.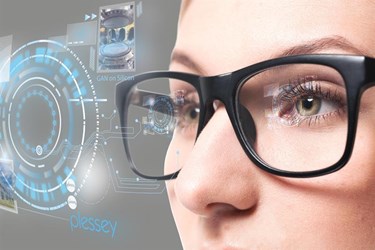 The next generation of Vuzix smart glasses will be demonstrated using technology that ditches OLEDs in favour of microLED displays. Vuzix is the first company to present Plessey's microLEDs in action for AR applications.
Plessey says that its microLEDs offer 10 times the resolution, 100 times the contrast ratio, and up to 1,000 times the luminance of traditional OLEDs. This has been achieved by using just half the power consumption, doubling battery life in portable headsets.
These benefits have been recognised by the Consumer Technology Association (CTA), owner and producer of CES, which has named Plessey a CES 2019 Innovation Awards Honoree in the Embedded Technologies category.
Commenting Mike Lee, President of Corporate and Business Development at Plessey, said: "We're looking forward to previewing the AR, VR and head-up display experience that microLEDs are set to create at CES. Compared with all other display technologies, microLEDs are brighter, smaller, lighter, more energy-efficient, and have a longer operating life."
Plessey microLEDs are developed using a scalable and economical, repeatable GaN-on-Silicon monolithic process that guarantees uniformly high quality and performance. This pioneering process has succeeded in eliminating the problems associated with the pick-an-place microLED display manufacturing techniques currently being used by other companies.
According to Plessey, microLEDs are also about to have a huge impact on the design of pico- and micro-projectors. Here, microLED illuminators enable the form factor to be cut by 40% and optical efficiency boosted by 50%. The projects not only become smaller and lighter but they need less battery power and deliver higher quality images in every respect: brightness, resolution and contrast ratio. DMD (including DLP) and LCOS technologies are about to go the way of the cathode ray tube.
Other demonstrations on the Plessey booth will include a 0.7 inch 1080p microLED comprising separate red, green and blue panels, and an addressable blue 0.7 inch microLED display running 1080p video.